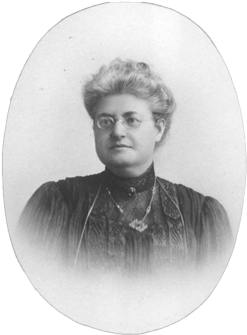 Eleanor Smith was director of the Hull-House Music School during Jane Addams' tenure as Head Resident. Hull-House music programs were central to the settlement's mission and contributed to the development of talented young working class musicians across Chicago.
But another aspect of Smith's work remains relatively unknown. In the years between 1900 and 1915, she composed a series of social protest songs Hull-House residents used for political organizing and culture building.
They were usually performed in Hull-House concerts attended by neighborhood residents, Hull-House residents, and, sometimes, prominent members of Chicago society.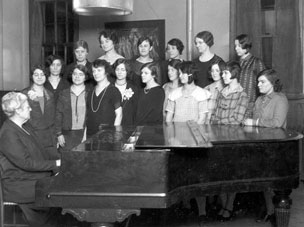 And the performers were often students from the Hull-House Music School, including immigrant workers and the children of immigrant workers. Jane Addams wished Hull House Songs to fill a void hidden in the intersection of American musical and political culture. She differentiates Smith's songs from old fashioned songs [that] with the exception of those of religion and patriotism, chiefly expressed the individualistic emotions of love, hope or melancholy.
Against this old fashioned standard, Hull House Songs presents the imperative demand that socialized emotions should also find musical expression. Like nations and religions, movements for social justice require art, and more particularly, song, to express, sustain, and inspire solidarity. Thus, the songbook is intended to provide the inspiration and solace that the manifold movements of our contemporaries…so obviously need.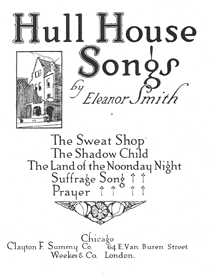 In this sense, Hull House Songs might seem to resemble its historical contemporary, the Wobblies' Little Red Songbook. But against the Wobblies desire to fan the flames of discontent, and their tendency to demonize capitalists and bosses, Addams argued that any critique of capitalism that simply attacked capitalists remained a partial representation, and produced an incomplete community.
So in her settings of the poems for Hull House Songs, Eleanor Smith expurgates any reference to class conflict and the privileges of the bosses and capitalists. The compositions collected in Hull House Songs are critiques of capitalism as a system, not capitalists as individuals. Both Smith's songs, and Addams' essays on labor, attack the systemic elements of exploitation, while, at the same time, attempting to create solidarity between classes (against capitalism). In any case, this was the carefully crafted message behind Hull House Songs: Class struggle is against capitalism and exploitation, not against bosses and capitalists.
-- Adapted from Graham Cassano and Jessica Payette,
Hull House Songs and the Public
in Graham Cassano, Rima Lunin Schultz, and Jessica Payette (eds),
Eleanor Smith's Hull House Songs: The Music of Protest and Hope in Jane Addams's Chicago
(forthcoming, Brill).
Images courtesy of the University of Illinois Chicago, Special Collections.